Fast Bar's recipe comes from more than 20 years of research at the University of Southern California (USC). Scientists studied how unique blends of macronutrients and micronutrients could be consumed without kicking your body out of a fasting state.
They used this formulation to create the Fast Bar, which provides the tasty nutrition of macadamias, pecans, almonds, and honey that has a similar fasting impact as a glass of water*.
It's also plant-based, Keto-friendly, and gluten-free.
Fast bar nourishes your body with high quality plant base proteins, complex carbs (very low glycemic index) and is rich in healthy brain like healthy fats that we source from Macadamia, Pecans and Walnut, the most expensive ingredients that nature offers!
The secretive fast bar formulation is the fruit of two decades of collaboration between Nature and our Scientists who unlocked a natural nutri-technology of fasting with food or fasting mimicking diet. Recently, 14 global universities joined the research and helped us bring to the world the Fast Bar, Fasting Shake, Reset, and ProLon Five Days Fasting Nutirition.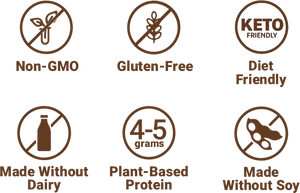 Yes — Amazingly, when you eat Fast Bar, your body thinks it's still fasting
Fast Bar's proprietary formula of premium ingredients doesn't trigger your body's nutrient sensing system, so your body's tricked into thinking it's fasting. It's the only thing you can eat during your fasting window without breaking your fast — eat without your body even knowing it.



*In a randomized, controlled study of 105 adults, participants fasted overnight for 15 hours, then had either breakfast, a Fast Bar, or water. Blood glucose and ketones were measured every hour for 4 hours with results shown above. Data on file.
Delicious + Healthy = Extraordinary
Fast Bar is made with premium nuts like Macadamias. Nuts contain a variety of health-supporting nutrients like antioxidants, vitamins, minerals, fiber and Omega-3 fatty acids.

Fast Bar's recipe is designed to nourish your body while maintaining its fasting state. For that reason, it's best enjoyed during either your morning intermittent fasting window or as a late-night snack to satiate you before bed.

Similar to water, our delicious flavors do not raise your blood glucose levels and keep your ketones in a fasting state*!
What Customers Are Saying
Fast Bar® is an intermittent fasting bar that can help curb your hunger without breaking your fast, so you can fast for longer. It has been clinically shown to keep your body in a fasting state even after eating. You can eat it in the morning after your overnight fast to help curb your hunger and extend your fast until your next meal. A clinical trial showed that eating a Fast Bar after an overnight fast has a similar impact on ketones and a nearly identical impact on blood glucose as drinking water*.

* Benefits seen in a randomized, controlled study in 105 adults after a 15-hour overnight fast comparing the glucose and ketone results every hour for 4 hours in the Fast Bar group, breakfast group and water-fast group. Data on file.
You should eat Fast Bar once a day, as we want people to follow a healthy, balanced diet including regular meals during the day.

You can eat it in the morning after your overnight fast or as a healthy snack anytime during the day, in addition to meals, to help curb your hunger.

The impact and safety of consuming more than one Fast Bar per day hasn't been studied, and we recommend that you eat only one Fast Bar in the morning or evening, along with a healthy, balanced diet for your other meals.

Fast Bar is great for supporting Time Restricted Eating and other short fasts. If you seek the benefits of Prolonged Periodic Fasting, our 5-Day ProLon Fasting Mimicking Diet (FMD) has been extensively tested, has been safely used by hundreds of thousands of generally healthy consumers, and has been clinically tested to provide many benefits, and support overall metabolic health when used in multiple consecutive cycles. For more info on ProLon, go to www.prolonfmd.com.
The Fast Bar study tested the effects of eating a Fast Bar at breakfast time (after a 15-hour overnight fast), compared to either skipping breakfast or eating a standardized breakfast bar. The study looked at blood glucose and ketone levels over the 4-hour period after breakfast time and showed that blood glucose levels in patients eating Fast Bar were nearly identical to blood glucose levels in patients who skipped breakfast.

Ketone levels over the 4 hours were also very similar in both groups. These results showed that eating a Fast Bar doesn't interfere with key physiological markers of fasting. The study also showed that Fast Bar gave people a feeling of being fuller and curbed the desire to eat for up to 3 hours after consumption. In other words, you can eat a Fast Bar to help make fasting easier and more pleasant, and maintain similar ketone and blood glucose levels as a water-only fast.
Yes! Fast Bar is designed with the same technology as the ProLon Fasting Mimicking Diet®. Our technology is the result of over 20 years of preclinical and clinical testing with over 36 million US dollars in research and development funding from the National Institutes of Health and the European Union.
Scientists used to think that calorie balance (i.e.: calories consumed minus calories burned) was the most important factor in weight loss. But scientists now widely accept that not all calories are the same. Factors such as macronutrient ratios, total amounts, how the nutrients are digested and absorbed, and molecular composition all have an impact on how the body processes food.

The Fasting Mimicking Diet (FMD) and Fast Bar have been carefully engineered, extensively researched, and clinically tested to allow for the consumption of nutrients and calories but still keep cells in a fasting state. Our special patented formula effectively hides from the body's nutrient sensors, preventing them from sending the hormone signal that typically is sent after eating. The cells respond to the decrease in this hormone signal by entering a fasting state. You can learn more about the science of fasting mimicking here: https://fastbar.com/pages/science-of-fasting.
Fast Bar was designed with the same technology as ProLon's L-Bars, but there are slight differences in size, calorie count and overall sugar content. Due to the carefully formulated macro and micro-nutrient ratios of the individual bars, they're not intended to be interchangeable and should only be used as directed.